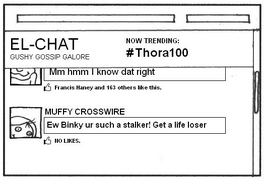 El-Chat
(slogan: Gushy Gossip Galore) is a local chatroom website in
Elwood City
. The name is probably a short version of Elwood Chat. It's popular among schoolgirls for gossiping and cyberbullying, with
one exception
.
Muffy Crosswire
visits the chatroom in
CY83R8U11Y
, hoping that everyone is raving about her new hairdo. On the contrary, the trending hashtag is #MuffyIsUgly, and everyone is discussing the repulsiveness of her hair. This later leads Muffy to attempt suicide.
Arthur Read
posted a video of his
sister
doing the
ALS Ice Bucket Challenge
and getting injured. Muffy and
Francine Frensky
were browsing El-Chat at the time, and encountered Arthur's video (
D.W. Breaks the Ice
).
In
Muffy's Cyber Drama
, Muffy visits the chatroom again to 'poke' Francine, only to find Binky lurking on her page.
Interface
Edit
El-Chat seems to have elements of both Twitter and Facebook, as you can use hashtags and '@' tags, but users also have their own wall and posts can be 'liked'. The top-trending hashtag is shown on the top of each page.
These characters are shown to use El-Chat:
Appearances
Edit