This article is written from a real-world point of view
This article is written from a real-world point of view, meaning it is not in the universe of Elwood or Arthur, it's in our universe.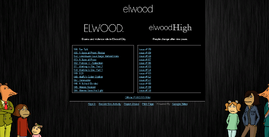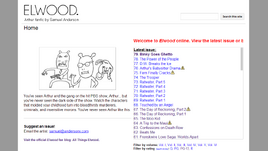 The
Elwood website
is the official website for the
Elwood
web comic, and is the original place of release for each issue. For a while, the site used the domain
elwoodcomic.net
, but it has since expired.
2014 version (original)
Edit
The original version of the website went live in May 2014. It had a simple two-column layout, with a scroll-box of issues listed in descending order on the right, and a series synopsis and external links on the left. The color scheme was white and gray.

Within the scroll-box, each issue linked to an internal web page. The pages contained an embedded image of the issue, a icon giving the content rating (G, PG, PG-13, or R), and a series of tags listing the feature characters, volume, and rating.

There were several small icons used to categorize issues, placed to the right of the issue title within the list.
| | |
| --- | --- |
| | PG-13 or R rated issues |
| | Seasonal Christmas issues |
| | Seasonal Thanksgiving issues |
| | Seasonal Halloween issues |
| | Link to Elwood Alive adaption |
| | Link to Elwood Latino adaption |
2017 version
Edit
On May 10, 2017, the website was drastically remodeled to accommodate for Elwood High, the new rebooted web comic. The color scheme was changed to black, and the background is a image contrasting the Elwood and Elwood High models of three characters: Nigel Ratburn, Francine Frensky, and Kate Read.

The left column is a small scroll-box containing the 156 original issues of Elwood, under the subtitle "Drama and violence rule in Elwood City." In the right column, an identical scroll-box contains the new Elwood High issues under the subtitle "People change after nine years." On December 31, 2017, that subtitle was changed to say "eight years" due to a retcon.[1] The icons from the original version are not used in these lists.

The remodel removed all links to Elwood Alive and Elwood Latino, as well as content ratings for each issue. However, although those links are hidden from the front page, they still exist and can be accessed through URL manipulation.
Resources
Edit
References
Edit