Paradise Found, the thirty-first issue of Elwood and third issue of Volume 3, was released on June 24, 2014.

In this issue, Arthur is forced to let D.W. and her friends play in Arsubia.
On a summer day, Arthur, Sue Ellen, and Binky and frolicking in Arsubia. D.W. interrupts the trio, asking to join them. Arthur emphatically refuses, with Sue Ellen and Binky cheering him on. Arthur points out that Arsubia has a "no babies allowed" rule.

D.W. tattles to her mom, Jane, who forces Arthur to include his sister. D.W. immediately invites all of her preschool friends. After angrily watching D.W., James, and the Tibbles having a good time, Binky explosively commands them all to leave, saying "Arsubia is now Binky's Butterfly Beach."
Characters
Edit
Reception
Edit
Upon release, the episode received generally mixed to negative reception. The issue has been called "boring," "unsubstantial," and "unfunny." However, much of the negative feedback since the issue's release has been overblown, becoming more of a recurring joke than actual critique.

All Things Elwood ranked the issue as #5 in Top 5 WORST Issues of Elwood. It was famously outranked by Alan's Existential Crisis (#1 on the list). One of the author's qualifications for naming Alan's Existential Crisis the worst issue of Elwood is that "Paradise Found is better than this."[2]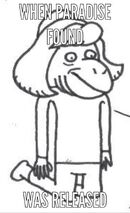 "This is usually seen as the worst issue ever. But, as time went on, it was slightly overruled. This issue is just weird and not too funny...but there are a few funny parts."
—All Things Elwood on the critical panning of Paradise Found.
On January 3, 2018, the official Elwood Instagram page posted a meme poking fun at the issue's poor reception. It was accompanied by the hashtag "#blunderyears."[3] One iteration of the "Laverne is weary" meme also attacked the issue.
The title of the issue, Paradise Found, is a parody of the Arthur episode "Paradise Lost" (season 13, episode 9a). That Arthur episode itself is the same name as a 17th-century epic poem by John Milton. The plot of this issue is not related to either the Arthur episode or Milton's poem.
Arsubia, the setting for this issue, was first introduced in the Arthur episode "The Secret Guardians" (season 13, episode 7b).
Storyboard
Edit
References
Edit